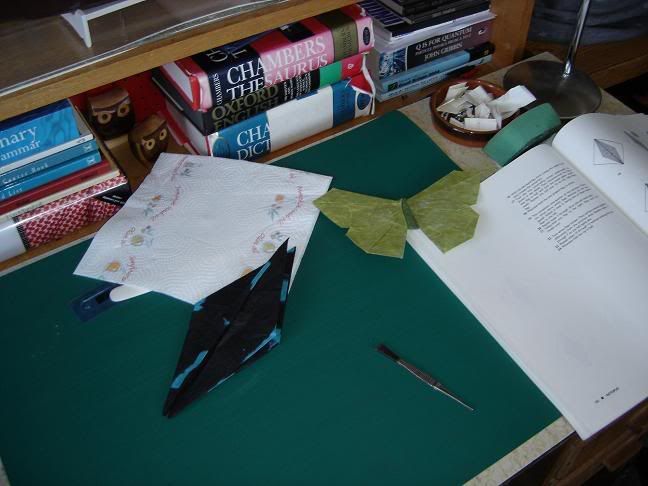 (Click to enlarge image)


Veteran origami designer, Michael LaFosse, (whose butterfly you can see on the right of this photograph) also designed a very elegant Koi Carp, which he makes from white watercolour paper. He decorates the fish with blotches of red, black and orange paper. You can see an example of it here:
I wanted to do something similar but a bit more random, hence, before folding Peter Engel's Octopus (pictured in its very early stages to the left of the butterfly), I glued some roughly torn pieces of turquoise khadi paper to a square of black, silk threads tissue. Some of this vivid blue will be visible in the tentacles and the body of the finished model. I hope that it will effectively represent either the play of light in the water, or the octopus's natural skin pigmentation.
In the same vein, I am folding Jose Maria Chaquet Ulldemolins' version of the iconic WWII fighter plane, The Spitfire, using a square of brown paper decorated with green strips, in an attempt to mimic the wartime camouflage.
I am also planning more ambitious, regimented collaging that will emulate, for example, the patterning on a giraffe's hide. It's an extension of back-coating, whereby two sheets of differently coloured paper are pasted together to produce a bi-coloured model. I think that it's a much better way of adding colour and texture to a piece of origami than painting.